Client Care Program
The Family Estate & Legacy Client Care Program Essential and Elite Services to Keep Your Plans Up-to-Date
Life is a dynamic process, and your estate plan needs to adjust periodically to keep up.
For all plans other than our Basic Plan, Evans Legacy Law Group LLC offers a one-year complimentary membership in the Family Estate & Legacy Client Care Program™. The Client Care Program ensures that your revocable trust and ancillary documents, including your durable financial power of attorney, will, health care power of attorney and living will, are up-to-date and ready when you and your family need them.
Many estate planning attorneys simply prepare documents and send you out the door. At Evans Legacy Law Group LLC, we want to ensure that your plans will continue to meet your needs as laws change and family situations evolve. If any documents need amending–or if you just want someone to assure you that your plans are still good to go—you don't have to start from scratch. Our Client Care Program has you covered. Hear From Our Happy Clients
We Believe in Creating Relationships to Help Our Clients Express Love and Create a Legacy
"She listened for my concerns and explained her advice well."

Shanise's combination of expertise, experience and heart was exactly what I was looking for to help me plan for my legacy.

"Highly recommend Evans Legacy Group."

I've used their services a couple times now and I'm always impressed with the attention to detail and excellent service.

"Attorney Shanise Evans and her office are a pleasure to work with."

Very knowledgeable across the board and were very helpful with our family estate planning needs.

"Evans Legacy Law Group exceeded my expectations in estate planning and business law."

They guided me through the entire process, ensuring my assets and business were protected. I highly recommend their services to anyone seeking expert advice and comprehensive legal support.

"Evans Legacy Law Group did a great job of listening and making sure we had the right plan for our needs."

We couldn't be happier with the service and guidance we received. We highly recommend Evans Legacy Law Group.

"They do a wonderful job of making sure that you are comfortable throughout the process."

You never feel as though you aren't being heard. They've been a pleasure to work with.

"Business or Personal, they've got you covered!"

Attorney Shanise Evans has proven to be extremely knowledgeable in her field. The patience and care she has shown our family is truly appreciated. The entire staff at Evans Legacy Law has demonstrated professionalism at its finest!

"I would highly recommend Evans Legacy Law Group for all of your estate planning needs."

Attorney Evans is amazing and so thoughtful and caring. She patiently worked with us to provide us with a much better understanding our current estate planning documents. We used another attorney office for our original documents, but they did not provide
You Will Be Ready For:
Legal Updates—State and federal laws that affect your will, trust, investments and retirement accounts change constantly. Unless you follow developments in legislation and court cases, you won't know when a change in the law affects your plan or offers new opportunities to improve your position. Our team monitors these developments to ensure your plan still meets your needs as efficiently as possible.
Changes in Family Circumstances—Family dynamics change all the time. Without timely updates, loved ones could be left out of your plan. If you want to add beneficiaries or change the percentage allocated to loved ones, our team can make those amendments and you won't have to worry about hourly legal fees.
Aligning New Assets—Funding your trust is not a "one and done" process. When you open a new account or make certain changes, you need to act to ensure the assets are aligned correctly. We can explain in detail what you need to do or assist directly with the transfer.
Accessing Key Documents Quickly and Easily—Client Care Program members receive a custom Client Portal that can be accessed 24/7. This provides easy access to critical legal documents including your revocable living trust, will, durable financial power of attorney, health care power of attorney, and living will. If an emergency requires a sudden trip to the hospital, you or a loved one can download critical documents right from the Portal. You can also upload prepaid funeral arrangements and instructions and send messages to your legal team securely through your Client Portal.
Staying Informed—We provide Client Care Program members with a variety of tools to keep informed about legal changes and evolving techniques to get the most from your resources. Our team regularly conducts workshops that are free for members of the Client Care Program and their guests. We also provide free access to books, podcasts, and webinars with estate planning tips and insight.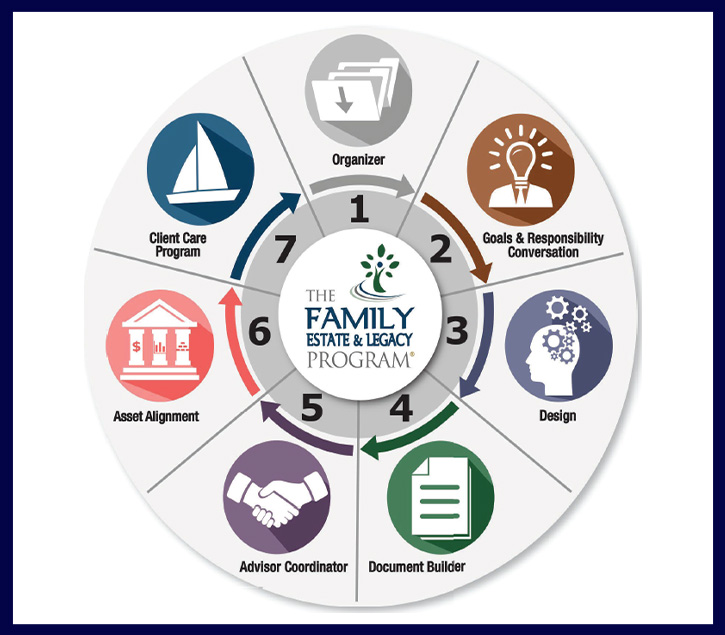 We offer two tiers of service to our Client Care Program members. All estate planning clients receive a complimentary one-year membership in the Essential Client Care Program™. This program includes:
Legal Updates to:
Durable Power of Attorney
Health Care Surrogate
Living Will
Pre-Need Guardian Designation
Simple Amendments to Your Revocable Living Trust
Changes to trustees, executors, beneficiaries, or successors
Additions of specific bequests
Adjustments of percentages among beneficiaries
Assistance with asset alignment
Help from an estate planning support team available to answer questions or address concerns
Educational programs and workshops
Client Portal with 24/7 access to documents
Access to resources with information on in-depth estate planning strategies
Year-end updates on changes to applicable federal and state tax and estate laws
You've invested significant time, effort, and money to develop your estate plan, so you don't want to let the plan become obsolete. With the Client Care Program, your plans will continue to provide the right services to achieve your goals.
Once your complimentary membership expires, renewal of the Essential Client Care Program is $425 for a single client or $525 for a married couple.
For clients who want more, we offer the Elite Client Care Program™. Clients who enroll in this augmented program receive all the services provided in our Essential Client Care Program with a more personalized level of service.
With the Elite Client Care Program, our estate planning team will provide a complete audit of your estate plan as well as a thorough audit of assets to determine that they are aligned correctly to meet plan objectives. An Attorney and Funding Specialist will review the details and make recommendations during an annual conference.
You may choose whether to hold a conference in person or via video, and your loved ones are always welcome to attend the meeting with you. The conference provides a critical opportunity to assess the need for adjustments, anticipate developments that could arise in the near future, or discuss new ideas such as charitable bequests or funding options for long-term care.
The Elite Client Care Program with an included consultation is particularly helpful for clients facing changes such as:
Sale of a family business
Acquisition of new real estate
Changes in health affecting you, your beneficiaries, or your trustees
Divorce or blended family arrangements
Retirement
Inheritance
Provision of support for a loved one
The annual fee for Elite Client Care membership is $895 for a single client and $995 for married clients. Clients who upgrade their revocable trust to the Transformational Plan receive a complimentary one-year membership in the Elite Client Care Program.
Protect Your Family and Your Investment
Failing to make adjustments in your estate plan can lead to a host of unwanted consequences. You can avoid potential problems and worry by enrolling in the Evans Family Estate & Legacy Client Care Program™. We offer two plan levels to provide just the right services you need to remain prepared for whatever life brings.
If you'd like to learn more about the Client Care Program and the ways our team can protect your family, we'd be happy to talk to you.