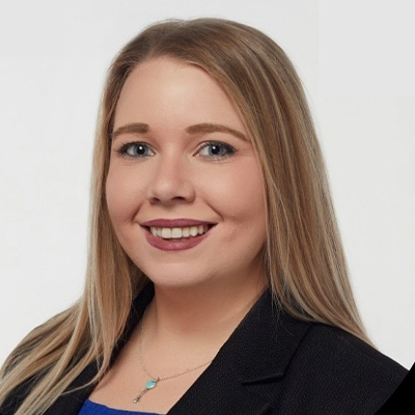 Hannah Lint
Client Service Director
Hannah Lint
Client Service Director
Hannah brings a wealth of experience and expertise to the table. She has a background in Project Management with a passion for understanding businesses and their unique needs, she strives to partner with clients to develop actionable talent roadmaps that drive immediate value and foster long-term success. She believes in the power of collaboration and customization.
She received a B.S. in Industrial Engineering Technology and Hospitality from The University of Southern Mississippi and brings a unique blend of skills that enables her to analyze complex processes and find innovative solutions. Over the years, she has successfully managed multiple large federal construction projects, implementing process improvement systems that have streamlined operations and boosted efficiency. Her experience allows her to provide simple and scalable solutions, while also offering a realistic approach to managing change.
Beyond the professional sphere, she is a passionate soccer coach, an active player in the world of rugby, holds many roles in professional organizations, and is always studying to obtain new certifications. Her experiences have taught her valuable skills in leadership, teamwork, and adaptability, which she brings to every project and client interaction.  In addition, she is a proud military spouse and a mother to a vibrant tween daughter. These experiences have instilled in her a strong sense of adaptability, resilience, and empathy, which she brings to every project and interaction. Hannah understands the unique challenges, and demands of a military lifestyle, and provides unwavering support and exceptional service to our clients.